FOR IMMEDIATE RELEASE
September 12, 2019
Thorny Issues of Religious Liberty Addressed at the Press Club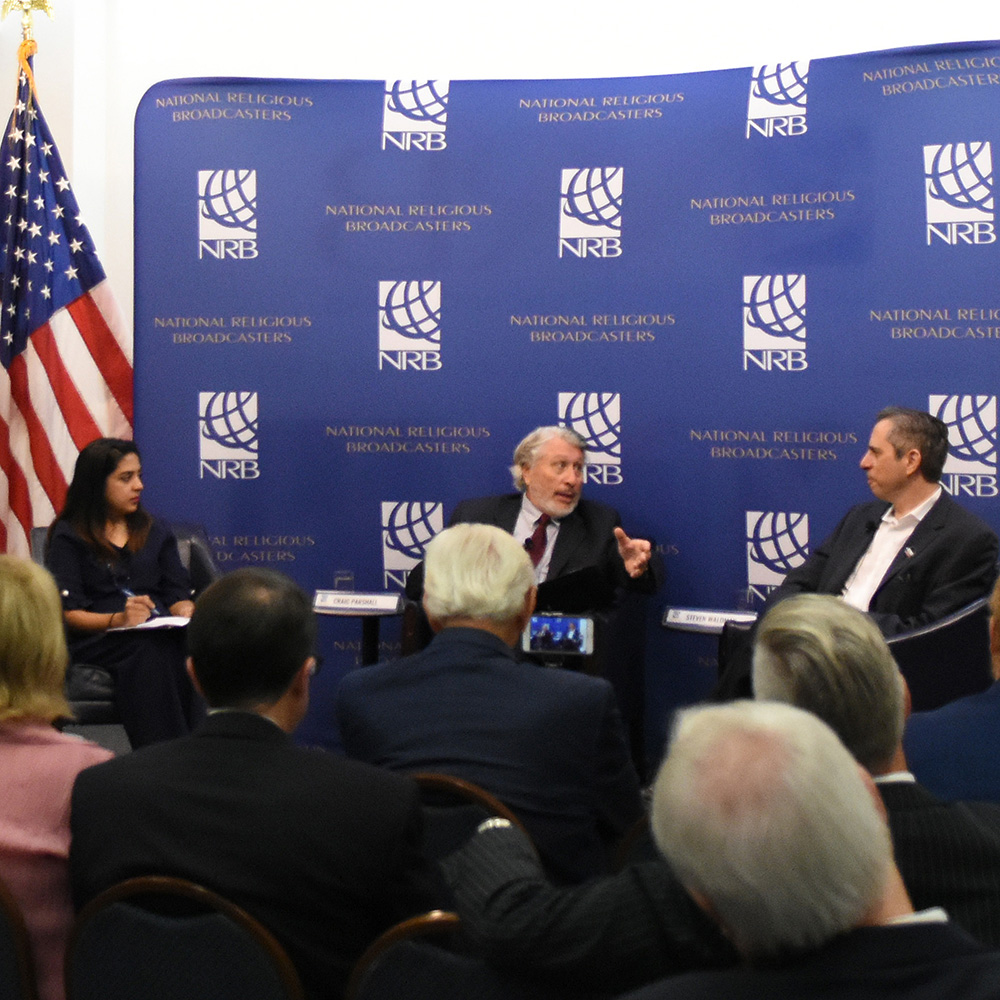 WASHINGTON (NRB) – The three-way conversation yesterday at the National Press Club with two civil rights lawyers – one an Evangelical Christian and the other a Muslim – who were also joined by a national journalist, didn't solve all the many knotty issues of religious liberty in America. But at the NRB-hosted event there were many points of agreement. NRBTV sponsored the dialogue.
NRB General Counsel Craig Parshall and Muslim attorney and scholar Asma Uddin both agreed that "hate speech codes" that restrict free speech in public venues, like the kinds used by some public universities, are a bad idea, regardless of whether the expression they are designed to censor is aimed at Muslims or at Christians. National journalist and author Steven Waldman acknowledged that the strict code of objectivity that he practiced in covering news is often not practiced by the mainstream media in issues involving conservative Christians, where the press picks winners and losers.
In other areas, however, they parted ways. Waldman, who praised the Evangelicals of the 19th Century, said he believes that now in the 21st Century they have erred, particularly in what he saw as their unfounded criticisms of Muslims. He also said he thinks Evangelicals have overreacted to the failure of institutions and officials to accommodate their religious beliefs. Parshall countered with his review of Google-aggregated press headlines that predominantly presented conservative Christians as oppressors and Muslims as sympathetic victims, corroborating the conclusion that Christians are under siege in the culture. Uddin said that the real problem lies in oppositions to Mosques and overblown concerns about Sharia law. Parshall also added that victories of Christians in court have shown that their perception of being unfairly under attack is accurate.
All three agreed, however, that one of the conditions of a healthy religious freedom environment is a level playing field regarding free exercise of religion and free speech for all religions. "For Christians," Parshall says," it's not about winning or losing, it is about having a place in the marketplace of ideas so that the case for Christ can be fairly stated. I believe that the truth of the Gospel, if given a chance, will ultimately rise to the top."

About NRB
NRB is a nonpartisan, international association of Christian communicators whose member organizations represent millions of listeners, viewers, and readers. NRB's mission is two-fold: To protect the free speech rights of our members to speak Biblical truth, by advocating those rights in governmental, corporate, and media sectors; and To foster excellence, integrity, and accountability in our membership by providing networking, educational, ministry, and relational opportunities. Learn more at www.nrb.org.

About the NRB Convention
The annual NRB International Christian Media Convention is the largest nationally and internationally recognized event dedicated solely to assist those in the field of Christian communications. The dynamic and award-winning Exposition consists of around 200 organizations and is an active marketplace for those seeking products and services to enhance their own organization. The next Convention will be held at the Gaylord Opryland Convention Center & Resort in Nashville, Tennessee, February 25-28, 2020. For more information, go to www.nrbconvention.org.
###
NRB
660 North Capitol Street NW, Suite 210
Washington, DC 20001
(202) 543-0073