FOR IMMEDIATE RELEASE
September 11, 2019
Senator Ted Cruz Honored with NRB's 2019 Faith & Freedom Award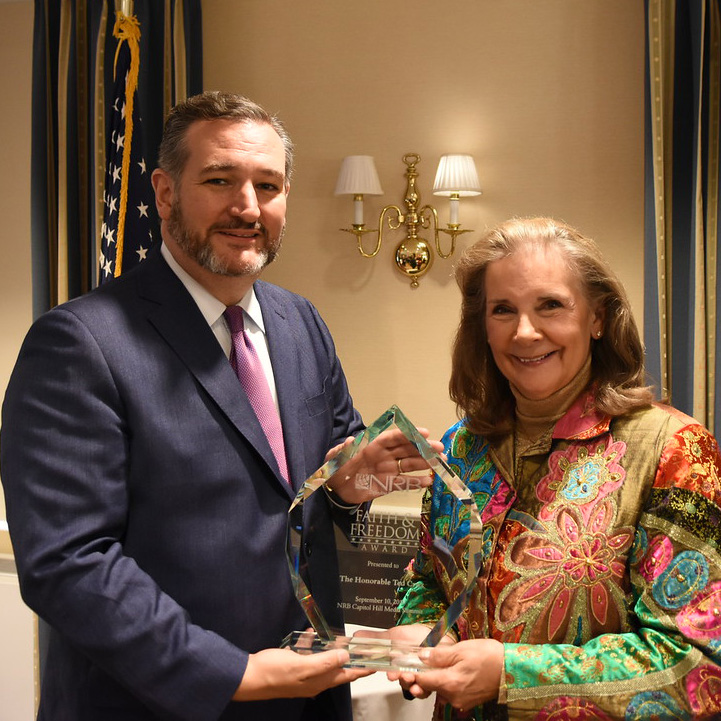 WASHINGTON (NRB) – NRB presented its 2019 Faith & Freedom Award to U.S. Senator Ted Cruz (R-Texas) on Tuesday, September 10, during the NRB President's Council Summit on Capitol Hill.
"Senator Ted Cruz, it is with the greatest of honor and in high, high praise for who you are and what you do that we give you our Faith & Freedom Award," said NRB Chairman of the Board Janet Parshall in presenting the award.
"This award is given specifically because you've been unwavering in your defense of religious liberty," she said in front of members of the NRB President's Council, a select group of Christian leaders who support NRB's efforts to keep the doors of all media platforms open for the Gospel. "You understand how imperative it is that religious liberty for some is religious liberty for all.
"We want you to know how much we appreciate you."
In response, Cruz thanked NRB for the award and said he was honored to be joining its members again, as he has been at the past NRB events in which he's participated.
"I respect what you do. I respect your mission – to speak, to spread the Gospel, to speak the Truth, to share Good News unapologetically with a spirit of joy, and to transform peoples' lives," he said. "Jesus said He will make you fishers of men. And we're in a room of fishermen. So I thank you for that. It makes a real difference in today's secular world that tries with all of its might to turn its back on God. The voice of truth, the voice of love – it cuts through, and it matters."
In the U.S. Senate, Cruz has led the fight to defend life, marriage, the First Amendment, the Second Amendment, and the entire Bill of Rights. He has also led the fight to secure the border and to confirm Justice Neil Gorsuch to the Supreme Court.
As Solicitor General for the State of Texas and in private practice, Cruz authored more than 80 U.S. Supreme Court briefs and argued 43 oral arguments, including nine before the U.S. Supreme Court. He also won an unprecedented series of landmark national victories that include his defense of U.S. sovereignty against the UN and the World Court in Medellin v. Texas, the Second Amendment right to keep and bear arms, the constitutionality of the Ten Commandments monument at the Texas State Capitol, and the words "under God" in the Pledge of Allegiance.
NRB annually presents its Faith & Freedom Award to a stalwart defender of religious liberty at its annual gathering of the NRB President's Council in Washington, D.C. Past award recipients include former Rep. Mike Pence (R-Ind.), former Sen. Sam Brownback (R-Kan.), Alliance Defending Freedom Founder Alan Sears, Rep. Greg Walden (R-Ore.), former Rep. J. Randy Forbes (R-Va.), former Rep. Frank Wolf (R-Va.), Sen. Roy Blunt (R-Mo.), former Atlanta Fire Chief Kelvin Cochran, Sen. James Lankford (R-Okla.), and Senate Majority Leader Mitch McConnell.

About NRB
NRB is a nonpartisan, international association of Christian communicators whose member organizations represent millions of listeners, viewers, and readers. NRB's mission is two-fold: To protect the free speech rights of our members to speak Biblical truth, by advocating those rights in governmental, corporate, and media sectors; and To foster excellence, integrity, and accountability in our membership by providing networking, educational, ministry, and relational opportunities. Learn more at www.nrb.org.

About the NRB Convention
The annual NRB International Christian Media Convention is the largest nationally and internationally recognized event dedicated solely to assist those in the field of Christian communications. The dynamic and award-winning Exposition consists of around 200 organizations and is an active marketplace for those seeking products and services to enhance their own organization. The next Convention will be held at the Gaylord Opryland Convention Center & Resort in Nashville, Tennessee, February 25-28, 2020. For more information, go to www.nrbconvention.org.
###
NRB
660 North Capitol Street NW, Suite 210
Washington, DC 20001
(202) 543-0073