FOR IMMEDIATE RELEASE
April 1, 2019
Marv Mickley Receives NRB Milestone Award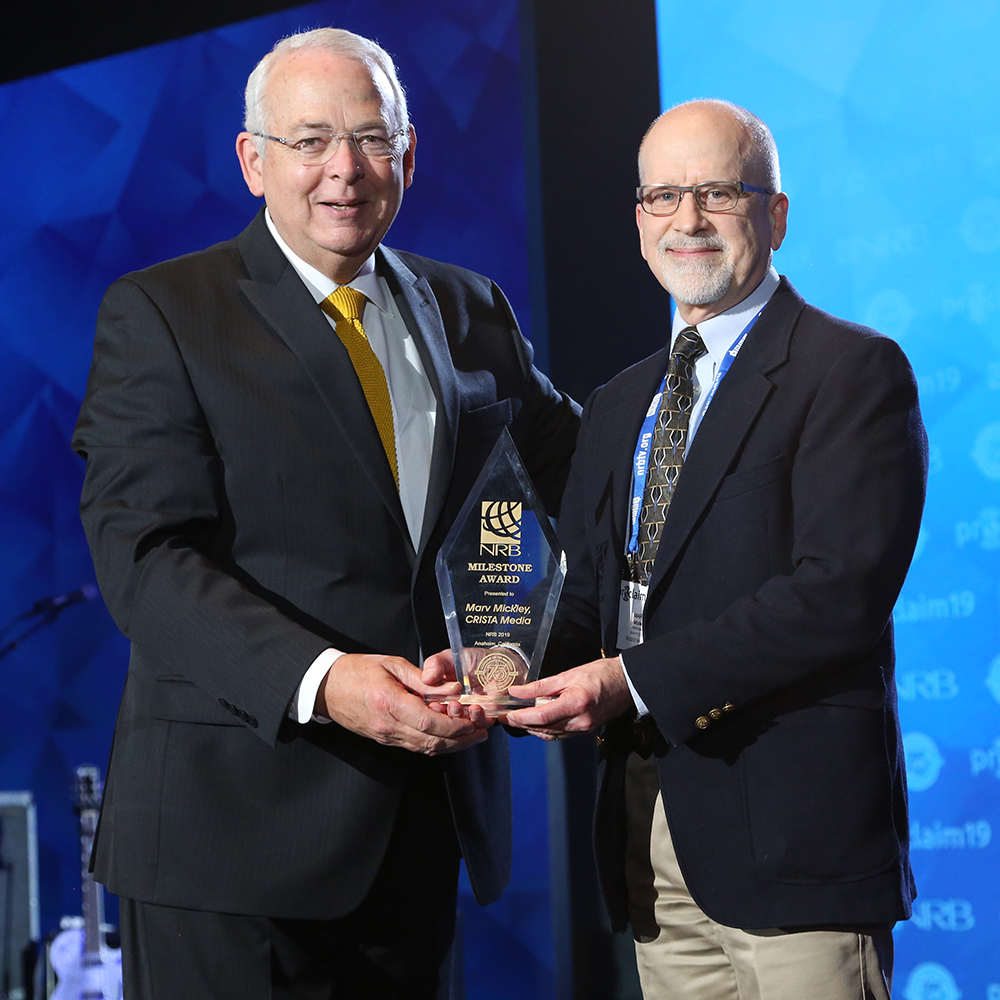 ANAHEIM, Calif. (NRB) – CRISTA Media's Marv Mickley received the 2019 NRB Milestone Award on Friday, March 29, during the Closing Gala at Proclaim 19, the NRB International Christian Media Convention in Anaheim, California.
Longevity in any field is becoming a rarity, and exemplary service in Christian broadcasting for 50 years — or more — is a feat worthy of recognition and applause. Through its Milestone Award, NRB honors the industry pioneers who brought Christian communications to the place of respect and achievement it enjoys today.
"Since 1954, CRISTA Media has been providing encouragement and hope through uplifting music and messages. And for five of the past six-and-a-half decades, Marv Mickley has been part of that," said Troy Miller, executive vice president and COO of NRB. "We are thankful for his long-time service to the Lord, and we're happy to honor him with the Milestone Award in recognition of that."
Mickley began his broadcast career at KGDN back in 1969, moved up the ranks to become program director in the 1970s and pioneered a new station for CRISTA in the early 1980s – KLYN in Bellingham (Reaching into Canada), where he was GM for many years.  Mickley continues as the on-air donor strategy manager for all CRISTA Media stations to this day.  There are many milestone moments in Mickley's long career, including the beginnings of many well-known teaching programs, such as Focus on the Family and Insight for Living. He has served faithfully to the Lord at CRISTA Media for 50 years.
The Milestone Award was one of 20 awards that were presented during Proclaim 19, which took place March 26-March 29, at the Anaheim Convention Center in Anaheim. For the complete list of 2019 award recipients, click here.
About NRB
The National Religious Broadcasters (NRB) is a nonpartisan, international association of Christian communicators whose member organizations represent millions of listeners, viewers, and readers. Our mission is to advance biblical truth, promote media excellence, and defend free speech. In addition to promoting standards of excellence, integrity, and accountability, NRB provides networking, educational, ministry, and fellowship opportunities for its members. This year, NRB marks its 75th anniversary as an association. Learn more at www.nrb.org.

About the NRB Convention
The annual NRB International Christian Media Convention is the largest nationally and internationally recognized event dedicated solely to assist those in the field of Christian communications. The dynamic and award-winning Exposition consists of around 200 organizations and is an active marketplace for those seeking products and services to enhance their own organization. The next Convention will be held at the Gaylord Opryland Convention Center & Resort in Nashville, Tennessee, February 25-28, 2020. For more information, go to www.nrbconvention.org.
###
National Religious Broadcasters
660 North Capitol Street NW, Suite 210
Washington, DC 20001
(202) 543-0073