FOR IMMEDIATE RELEASE
March 23, 2020
Kay Arthur Receives NRB Milestone Award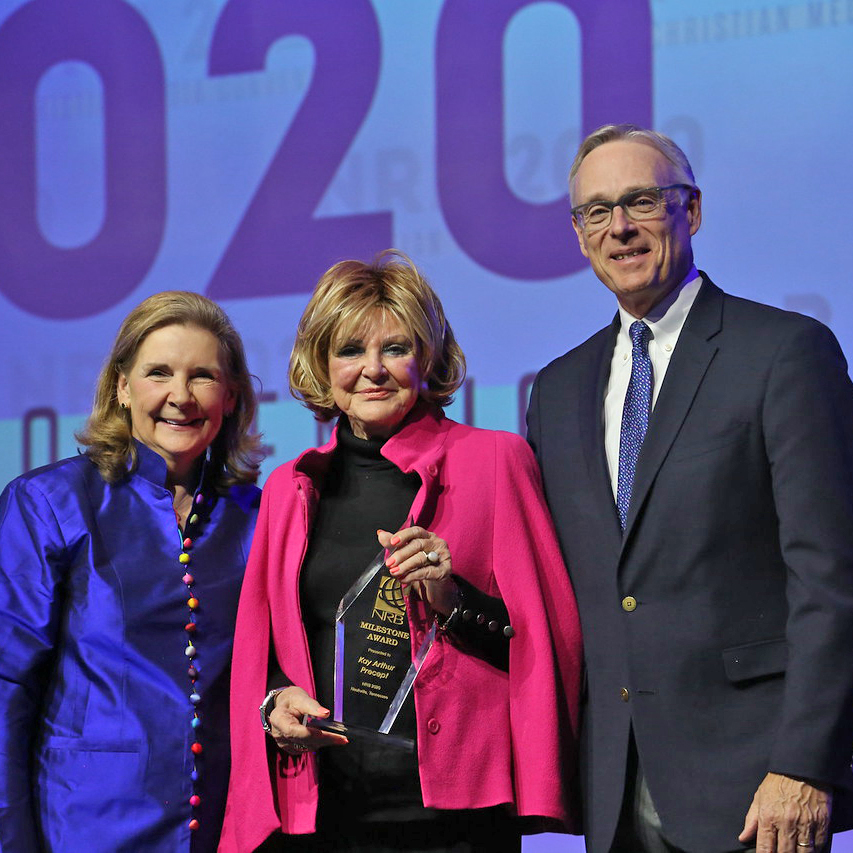 NASHVILLE, Tennessee (NRB) – Kay Arthur, Co-Founder of Precept Ministries International, received an NRB Milestone Award during the presentation of the NRB Special Service Awards at the NRB 2020 Christian Media Convention in Nashville, Tennessee.
Longevity in any field is becoming a rarity, and exemplary service in Christian broadcasting for 50 years — or more — is a feat worthy of recognition and applause. Through its Milestone Award, NRB honors the industry pioneers who brought Christian communications to the place of respect and achievement it enjoys today.
"Every one of these recipients raises the bar for all believers," Janet Parshall, NRB's Chairman of the Board, said of all the award winners during the NRB 2020 Closing Gala with Special Service Awards on February 28. "They are a picture of what it means to be completely dedicated to the cause of Christ no matter what – to be completely sold out to the proclamation of the Gospel of Jesus Christ."
In 1970, Kay Arthur and her husband, Jack, founded Precept Ministries for the sole purpose of engaging people in relationship with God through knowing His Word.
The ministry produces a variety of different Bible studies, including Precept Upon Precept®, In & Out®, the New Inductive Study Series, the "Lord" study series, 40-Minute study series, and Discover 4 Yourself Inductive Bible Studies for Kids. These unique inductive studies have been developed from years of diligent study and teaching experience, and are being used in nearly 180 countries and 70 languages to help establish people in God's Word.
Precept Ministries International also holds conferences and intensive Training Workshops designed to establish attendees in the Word through the Precept™ Inductive Bible Study Method.
The NRB Milestone Award was one of 27 awards that were presented during the NRB 2020 Convention, which took place February 25-28 at the Gaylord Opryland Resort & Convention Center in Nashville, Tennessee. For the complete list of 2020 award recipients, click here.
About NRB
NRB is a nonpartisan, international association of Christian communicators whose member organizations represent millions of listeners, viewers, and readers. NRB's mission is two-fold: To protect the free speech rights of our members to speak Biblical truth, by advocating those rights in governmental, corporate, and media sectors; and To foster excellence, integrity, and accountability in our membership by providing networking, educational, ministry, and relational opportunities. Learn more at www.nrb.org.

About the NRB Convention
The annual NRB Christian Media Convention is the largest nationally and internationally recognized event dedicated solely to assist those in the field of Christian communications. The dynamic and award-winning Exposition consists of dozens of organizations and is an active marketplace for those seeking products and services to enhance their own organization. The next Convention will be held at the Gaylord Texan Convention Center & Resort in Grapevine, Texas, March 15-18, 2021. For more information, go to www.nrbconvention.org.
###
NRB
660 North Capitol Street NW, Suite 210
Washington, DC 20001
(202) 543-0073