FOR IMMEDIATE RELEASE
March 19, 2020
Compassion International Receives NRB's Billy Graham Award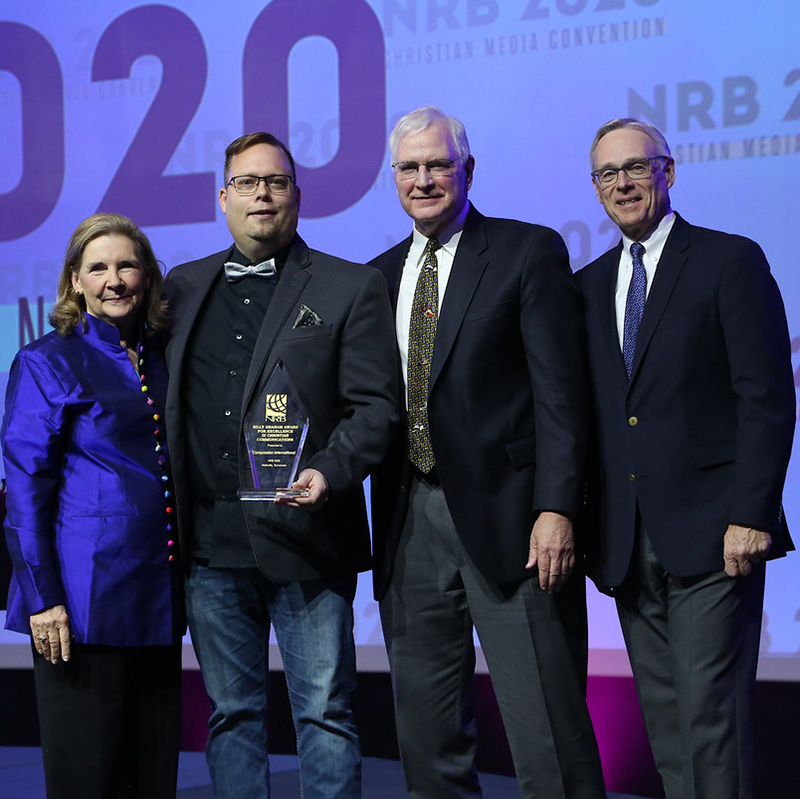 NASHVILLE, Tennessee (NRB) – Compassion International received the 2020 Billy Graham Award for Excellence in Christian Communications during the presentation of the NRB Special Service Awards at the NRB 2020 Christian Media Convention in Nashville, Tennessee.
The late Billy Graham was the best-known broadcaster, pastor, and evangelist of his era. Graham exemplified a commitment to excellence, creativity, and biblical fidelity in his use of electronic communications in furtherance of the Gospel of Jesus Christ. Each year, the Billy Graham Award for Excellence in Christian Communications is presented to an organization that effectively and creatively uses multiple electronic media technologies in fulfillment of its mission, while maintaining fidelity to the message of love, redemption, and hope found in the Holy Scriptures.
"Every one of these recipients raises the bar for all believers," Janet Parshall, NRB's Chairman of the Board, said of all the award winners during the NRB 2020 Closing Gala with Special Service Awards on February 28. "They are a picture of what it means to be completely dedicated to the cause of Christ no matter what – to be completely sold out to the proclamation of the Gospel of Jesus Christ."
Compassion International is a Christian child development organization dedicated to releasing children from poverty. Its ministry to children is twofold: It works through local churches to provide child development programs to deliver children from economic, physical, social, and spiritual poverty, enabling them to become responsible, fulfilled Christian adults. And it speaks out for children in poverty – informing, motivating, and equipping others to become advocates for children.
The Billy Graham Award for Excellence in Christian Communications was one of 27 awards that were presented during the NRB 2020 Convention, which took place February 25-28 at the Gaylord Opryland Resort & Convention Center in Nashville, Tennessee. For the complete list of 2020 award recipients, click here.

About NRB
NRB is a nonpartisan, international association of Christian communicators whose member organizations represent millions of listeners, viewers, and readers. NRB's mission is two-fold: To protect the free speech rights of our members to speak Biblical truth, by advocating those rights in governmental, corporate, and media sectors; and To foster excellence, integrity, and accountability in our membership by providing networking, educational, ministry, and relational opportunities. Learn more at www.nrb.org.

About the NRB Convention
The annual NRB Christian Media Convention is the largest nationally and internationally recognized event dedicated solely to assist those in the field of Christian communications. The dynamic and award-winning Exposition consists of dozens of organizations and is an active marketplace for those seeking products and services to enhance their own organization. The next Convention will be held at the Gaylord Texan Convention Center & Resort in Grapevine, Texas, March 15-18, 2021. For more information, go to www.nrbconvention.org.
###
NRB
660 North Capitol Street NW, Suite 210
Washington, DC 20001
(202) 543-0073