FOR IMMEDIATE RELEASE
March 18, 2020
Charles Stanley Receives NRB Chairman's Award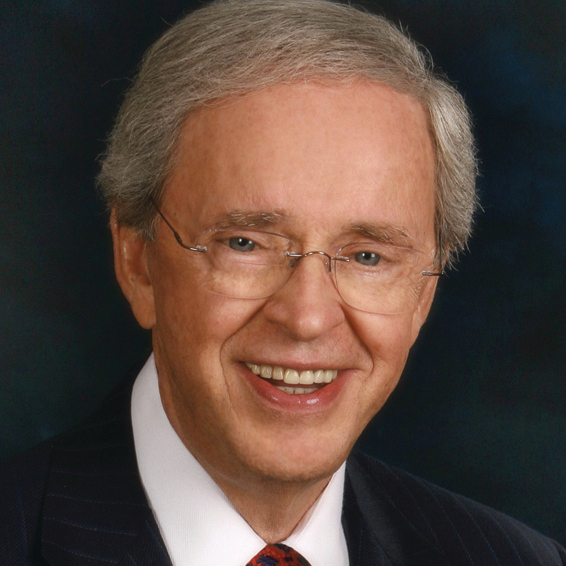 NASHVILLE, Tennessee (NRB) – Dr. Charles Stanley, Founder of InTouch Ministries, received the 2020 NRB Chairman's Award during the presentation of the NRB Special Service Awards at the NRB 2020 Christian Media Convention in Nashville, Tennessee.
In presenting the award, Janet Parshall, Chairman of the NRB Board of Directors, noted the extraordinary level of support that Stanley and his ministry has given to NRB, especially in the past year.
"When you've gone through a year where it's been mostly a trail of tears," Parshall said, "and you've really and truly had to completely collapse into the arms of a God who provides all our needs according to His riches in glory through Christ Jesus, you really notice people who step up and step in and give sacrificially, and give and give and give again without knowing necessarily what the future might hold, without knowing whether or not there is enough sustenance to be able to put one step, as an association, in front of another."
"This particular ministry, over the last couple of years, has really given at a profoundly deep, sacrificial level," she added.
A longtime member of NRB, Stanley reaches millions of people in every nation on earth via radio and television broadcasts, podcasts, the handheld In Touch Ministries Messenger, In Touch Apps, and on the web. In the United States, the In Touch television program is seen on 204 stations and seven satellite networks. The In Touch radio program is heard on 458 stations and via shortwave radio.
Globally, In Touch programs are seen and heard on more than 2,600 radio and television outlets in more than 50 languages. The ministry also continues to produce audio- and videotapes, CDs, DVDs, pamphlets, books, and an award-winning daily devotional magazine, In Touch.
In 1988, Stanley was inducted into the NRB Hall of Fame for the consistent excellence of his broadcast and leadership in the realm of Christian television and radio. Stanley has also served two terms as president of the Southern Baptist Convention.
The NRB Chairman's Award was one of 27 awards that were presented during the NRB 2020 Convention, which took place February 25-28 at the Gaylord Opryland Resort & Convention Center in Nashville, Tennessee. For the complete list of 2020 award recipients, click here.

About NRB
NRB is a nonpartisan, international association of Christian communicators whose member organizations represent millions of listeners, viewers, and readers. NRB's mission is two-fold: To protect the free speech rights of our members to speak Biblical truth, by advocating those rights in governmental, corporate, and media sectors; and To foster excellence, integrity, and accountability in our membership by providing networking, educational, ministry, and relational opportunities. Learn more at www.nrb.org.

About the NRB Convention
The annual NRB Christian Media Convention is the largest nationally and internationally recognized event dedicated solely to assist those in the field of Christian communications. The dynamic and award-winning Exposition consists of dozens of organizations and is an active marketplace for those seeking products and services to enhance their own organization. The next Convention will be held at the Gaylord Texan Convention Center & Resort in Grapevine, Texas, March 15-18, 2021. For more information, go to www.nrbconvention.org.
###
NRB
660 North Capitol Street NW, Suite 210
Washington, DC 20001
(202) 543-0073