FOR IMMEDIATE RELEASE
February 14, 2019
Contacts:
James A. Smith Sr. (NRB)
202-849-8452, press@nrb.org

Jennifer Willingham (Kingdom)
615-483-4729
Diamond Sponsor 'Kingdom' to Debut Unprecedented Entertainment Content at Proclaim 19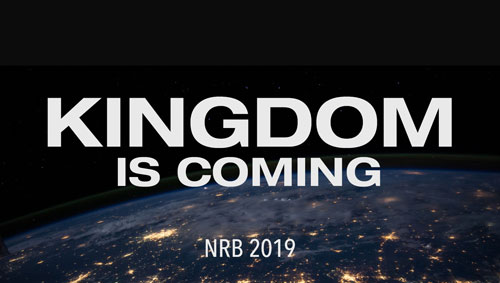 WASHINGTON (NRB) – Kingdom, a partnership between the creators of hits such as I CAN ONLY IMAGINE and LionsgateTM, will reveal its unprecedented lineup of content exclusively at Proclaim 19, NRB's International Christian Media Convention, on Wednesday, March 27. Convention attendees will be treated to a unique Super Session as Kingdom unveils its full slate of films with a celebrity lineup including Jon and Andy Erwin, Kevin Downes, Jeremy Camp, for KING & COUNTRY, Greg Laurie, Madeline Carroll, and an executive from Lionsgate.


"Following the success of I CAN ONLY IMAGINE, which was the number one independent film of 2018, we want to create quality entertainment with a partner that offers the widest possible audience," said Kevin Downes, one of the creators of Kingdom along with Jon and Andy Erwin and Tony Young.
 
The company recently announced I STILL BELIEVE, the uplifting true life story of Christian music megastar Jeremy Camp, as their next film.

Known for inspirational stories and epic cinematography, the Erwin Brothers have achieved the rare A+ CinemaScore twice, on I CAN ONLY IMAGINE and WOODLAWN. Past films from Erwins/Downes have all opened in the top 10 movies in America.
 
Kingdom is honored to serve as a Diamond Sponsor of Proclaim 19. The Kingdom Super Session will be held March 27 at 4 p.m. For more information, visit KingdomIsComing.com.

About NRB
The National Religious Broadcasters (NRB) is a nonpartisan, international association of Christian communicators whose member organizations represent millions of listeners, viewers, and readers. Our mission is to advance biblical truth, promote media excellence, and defend free speech. In addition to promoting standards of excellence, integrity, and accountability, NRB provides networking, educational, ministry, and fellowship opportunities for its members. This year, NRB marks its 75th anniversary as an association. Learn more at www.nrb.org.

About the NRB Convention
The annual NRB International Christian Media Convention is the largest nationally and internationally recognized event dedicated solely to assist those in the field of Christian communications. The dynamic Exposition consists of around 200 companies and is an active marketplace for those seeking tools and services to expand their organizations. The next Convention will be held at the Anaheim Convention Center in Anaheim, California, March 26-29, 2019. For more information, go to www.nrbconvention.org.
###
National Religious Broadcasters
660 North Capitol Street, Suite 210
Washington, DC 20001
(202) 543-0073