Senator Tim Scott Discusses Religious Liberty with NRB Leaders via Zoom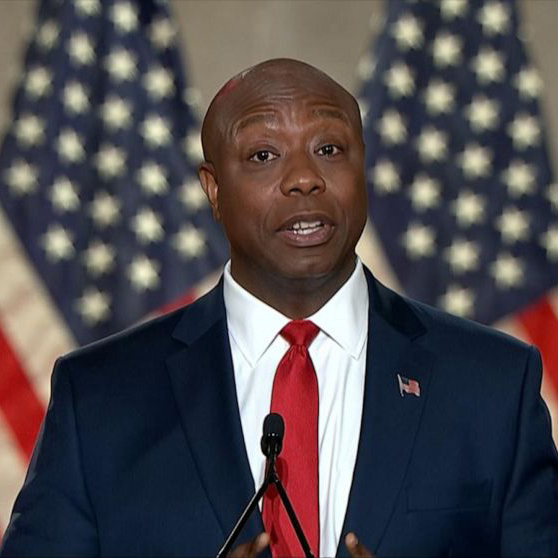 U.S. Senator Tim Scott and his team met with NRB leaders and members of the NRB President's Council on an exclusive Zoom video call recently.  Sen. Scott and his team shared about their work on protecting religious liberty and about the role that faith communities and faith-based organizations to be a part of bringing healing and unity in a political divisive climate.
"The election results remind us that even in the midst of living in the greatest nation on earth, sometimes the book of Daniel is more relevant than others," Scott said. "And it's going to be really important for us to remember the strategies of Daniel, frankly, trying to be as consistent with his faith as possible even in the face of opposition."
That's what Scott and his team have been trying to do.
"I that it's clear in the results of this election that we'll probably have more opportunities than we wanted to defend our faith in courts that we have spent the last four years re-calibrating," Scott cautioned.
Lauren Stimpert, Deputy Legislative Assistant to Sen. Scott, handles the senator's judiciary portfolio
and represented his team on this call. In her role, Stimpert oversees judiciary confirmations, handles the senator's criminal justice portfolio, and deals with immigration and religious liberty issues.
Stimpert pointed out that the Equality Act is currently a major topic on the religious liberty front. This act would add sexual orientation and gender identity as protected classes under the Civil Rights Act.
"Ironically, the Equality Act is anything but equal when it comes to religious freedom," Stimpert said.
Although some in Congress point to the importance of the Civil Rights Act in arguing for the necessity of the Equality Act, Stimpert suggested that this is not a fair parallel.
"The Equality Act would suppress particular beliefs on sexual expression and behavior, especially religious convictions on marriage and human nature," Stimpert noted. It would really take a toll and devastate the institutions built on those convictions."
Opposing the Equality Act is a huge priority for Senator Scott and his team.
Beyond the Equality Act, Stimpert assured NRB leaders that Senator Scott and his team are watching for any anti-religious liberty actions that appear in the days ahead and are ready to work to defend that freedom.
Another recent priority for Senator Scott has been expanding broadband to rural and underserved communities.
"If the pandemic did anything, it highlighted the importance and the need for connectivity because we are in a digital age and we're going to continue to move into the digital age," Stimpert said.
Senator Scott has been a part of introducing two pieces of legislation dealing with this issue. One is the Connecting Minority Communities Act with Sen. Wicker, and the other is the State Fix Act with Sen. Graham.
"Only 77% of rural communities have access to broadband, so that's really when the senator started looking at these huge gaps, realizing that there needed to be something that needed to change," Stimpert said. "That's what the broadband legislation really aims to do."
As Senator Scott works on tax reform legislation, Stimpert said that faith communities can and should be a part of bringing about change.
As a part of this reform, Scott has identified what he calls "opportunity zones." Stimpert explained that opportunity zone are designated zones that are long overdue for investment. Sen. Scott's initiative correlates these zones into key incentives by unlocking trillions of dollars of private capitol.
Stimpert encouraged faith communities and faith-based organizations to use their networks to help better position their communities. She called on them to enhance communication among neighbors, investors, and community-based leaders. She said that faith leaders have the ability to work with individuals, families, and communities in ways that governments are not able to.
"They have a more unique view of what the community needs," Stimpert said. "They have that capacity that often exceeds the government."
It remains to be seen how Sen. Scott will be able to advocate for these reforms and others moving forward in the new Senate.
"The Georgia Senate races are going to be so crucial to the makeup of the Senate," Stimpert noted. "Those two races are really going to determine what can make it to the table and what we can advocate, what we can champion for, in the Senate."
Sen. Scott also spoke to the importance of these races.
"It's going to be really important for us to have at least 51, preferably 52, Republicans who are all committed to religious liberty, who are all committed to the consistent stand on the Hyde Amendment, who are all committed to eliminating infanticide as a possibility, who are all committed to the first amendment," Scott told NRB leaders.
In all of these areas that Sen. Scott is focusing on, faith communities and ministries have a role to play in bringing healing and unity.
Stimpert said that they are "thrilled that faith leaders have been able to step up in the time of this pandemic." His team sees this as especially important for protecting religious freedoms if Biden secures the presidency.
 "Now is a time for unity and healing, and that's not going to come from pundits and commentators and the dominating voices of the mainstream media who continue to divide," Stimpert said.
Instead, Sen. Scott urged faith leaders to choose love in all matters, even when that is challenging.
"I think it's going to be really important for the church—the body of Christ—to embrace this new season through love, not the emotion of love but the commandment of love," Scott said. "That's really founded on Matt. 22:37-39—the whole notion that the entire worldview that we should embrace comes from loving God with all that we are and loving our neighbors as ourselves."
Sen. Scott directed NRB leaders to 1 Cor. 12-13 where Paul talks about the gift of the spirit and the call to love. He reminded listeners that different people have different functions.
"Not all of us can be hearts. Not all of us can be eyes. Not all of us can be feet or hands," Scott said. "It's really important for us to recognize the diversity in the body of Christ and see that as a strength and not a liability."
To close the call, Daniel Darling, Senior VP of Communications at NRB, expressed his gratitude for Sen. Scott and other leaders who are champions of religious liberty and the sanctity of human life.
"I just want to encourage and remind all of you to be praying for Senator Scott and his colleagues in the Senate as we fulfill 1 Timothy 2 to pray for those who are in authority," Darling said.
By NRB

Published: December 2, 2020
Comments
You must be logged in to leave a reply.
Login »