NRB Urges Swift, Fair Confirmation of Judge Amy Coney Barrett to Supreme Court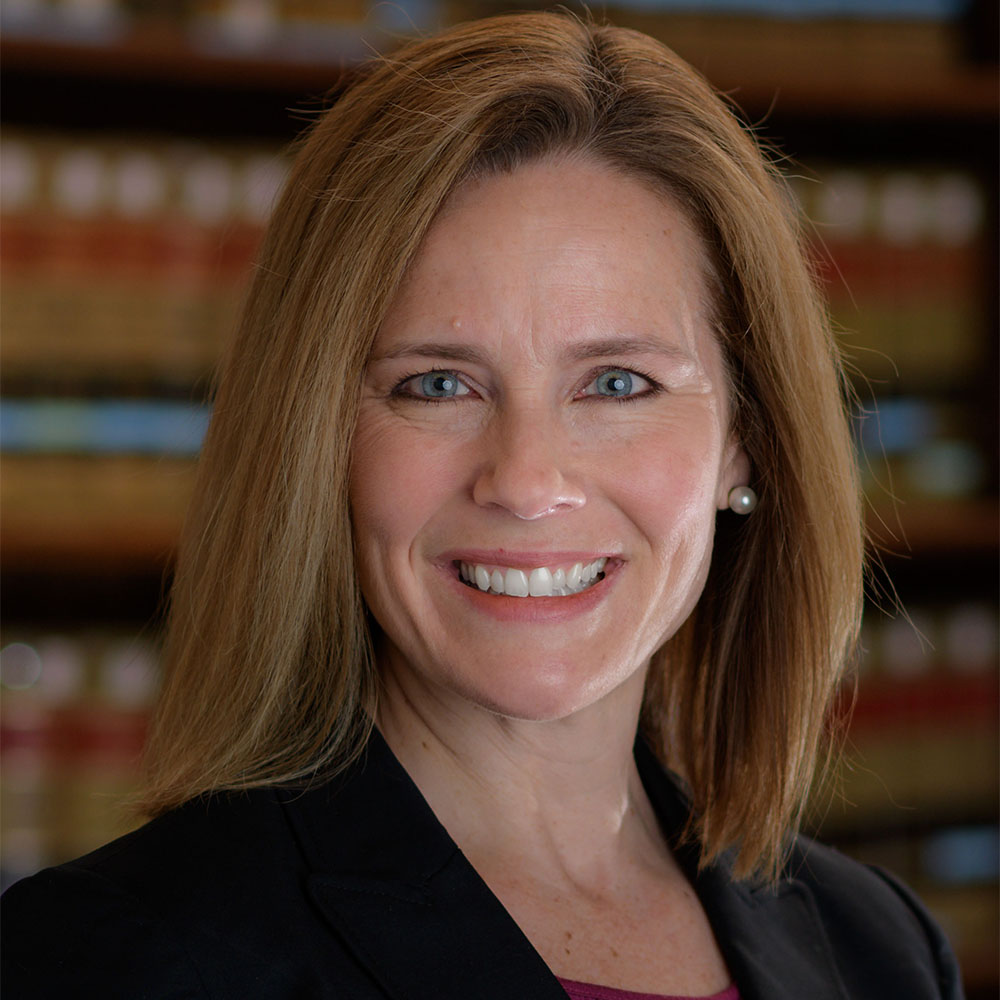 President Donald Trump on Saturday announced Judge Amy Coney Barrett as his nominee to the U.S. Supreme Court, calling her "one of the nation's most brilliant and gifted legal minds."
"She is a woman of unparalleled achievement, towering intellect, sterling credentials, and unyielding loyalty to the Constitution," the President said in introducing his nominee.
NRB CEO Troy Miller affirmed the President's remarks, noting in particular that "her outstanding judicial record shows she will defend the rule of law and protect the God-given Constitutional rights of Americans."
"Judge Barrett is extremely qualified and has a wealth of experience, notable accolades, and well-deserved praise – in both her professional life and personal life," he said. "Based on her legal career and years on the federal bench, we trust that Judge Barrett will review issues of interest to our members – religious liberty, the sanctity of life, and free speech – with careful judgement. Judge Barrett is also a role model as a mother and person of deep faith."
Miller also emphasized sentiments already shared by many NRB members, calling out those who have attacked Judge Barrett based on her faith and making clear that any religious test is unconstitutional.
"Judge Barrett has repeatedly and rightfully insisted that judges should not impose personal convictions on the law but rather apply the law as written. She is dedicated to upholding the Constitution as written and will not legislate from the bench," Miller stated.
"As an adoptive father of four children, I'm appalled at some in the press and others who have questioned her motives behinds her adoptions," he added. "It just shows us how low they will stoop in their personal attacks to discredit this fine candidate and mother."
Echoing that, Daniel Darling, Senior Vice President of Communications for NRB, said, "We urge the United States Senate to swiftly confirm her and conduct their Constitutional role of advice and consent without unfair personal attacks on her faith, her personal character, and her family. The role of a justice is a fair and impartial interpretation of the law. We pray this nomination helps protect America's sacred gift of religious liberty and helps move America toward a more perfect union."
The Honorable Amy Coney Barrett currently serves a judge on the U.S. Court of Appeals for the Seventh Circuit. She is a Notre Dame Law School alumna and has taught as a member of the Law School's faculty since 2002.
Judge Barrett teaches and researches in the areas of federal courts, constitutional law, and statutory interpretation. Her scholarship in these fields has been published in leading journals, including the Columbia, Virginia, and Texas Law Reviews. From 2010-2016, she served by appointment of the Chief Justice on the Advisory Committee for the Federal Rules of Appellate Procedure. She has been selected as "Distinguished Professor of the Year" by three of the Notre Dame Law School's graduating classes. 
Before joining the Notre Dame faculty, Judge Barrett clerked for Judge Laurence H. Silberman of the U.S. Court of Appeals for the D.C. Circuit and for Associate Justice Antonin Scalia of the U.S. Supreme Court.
The following is a selection of excerpts from statements issued by NRB members regarding the nomination of Judge Barrett:
"With nearly a hundred judicial opinions under her belt as a judge, and many additional votes in cases of national importance, Judge Barrett has produced the kind of track record that confirms her fidelity to the Constitution and the proper role of a judge."
Jim Daly, President of Focus on the Family
"Any nominee should be an originalist with a public record demonstrating deep commitment to protecting Americans' constitutional freedoms, including religious freedom and free speech for all. Judge Barrett has an encouraging record of advocating for constitutional freedoms, and she deserves a fair and respectful confirmation process in the Senate."
Michael P. Farris, President and CEO of Alliance Defending Freedom
"Once again, President Trump is following through on his promise and has selected a nominee who has a proven, originalist track record. Judge Amy Barrett is a highly qualified nominee who is committed to the Constitution and understands that a judge's role is not to legislate from the bench."
Tony Perkins, President of Family Research Council
"President Trump has nominated a judge to the Supreme Court who we are confident will protect the religious freedoms and constitutional rights of all Americans.  Judge Barrett's record demonstrates her commitment to the Constitution's text and its purpose.  Judge Barrett understands that government exists to protect the God-given rights of the people and the Constitution exists to prevent government from infringing on those rights."
Kelly Shackelford, President, CEO, and Chief Counsel for First Liberty Institute
"Judge Amy Coney Barrett is an excellent nominee to be the next Associate Justice of the Supreme Court, with a proven track record of upholding the Constitution and the rule of law. As a constitutional conservative, Judge Barrett has both the qualities and experience necessary to serve on the Supreme Court."
American Center for Law and Justice
"This is a great day for American jurisprudence and for every American who cares about the future of our nation's highest court and particularly the sanctity of human life. In Judge Barrett, President Trump has found a jurist who is not only committed to interpreting the law as our Founders originally intended but also to her faith. Yet again, President Trump has kept his promises to our country."
Jack Graham, Pastor of Prestonwood Baptist Church
 
"On this historic day, I would like to congratulate Judge Barrett on her nomination to the Supreme Court. Judge Barrett is a brilliant jurist whose commitment to American jurisprudence is only matched by her commitment to her faith. Let us pray that God will grant her wisdom and insight as she soon joins our nation's highest court."
Greg Laurie, Evangelist, Pastor, and Founder of Harvest Ministries
 
"It's vitally important at this time for the nation's highest court to be committed to the fundamental principles of separation of powers and interpreting law, rather than imposing other values onto the Constitution. We believe Amy Coney Barrett's record of jurisprudence and originalism will ensure a historic bulwark against the present-day elements that threaten our fundamental freedoms."
 
Jeff Hunt, Director of The Centennial Institute at Colorado Christian University

"We need judges who will understand and embrace their constitutionally-prescribed role. Amy Coney Barrett is considered by many to be such an individual. I pray that our elected officials in the Senate act swiftly and responsibly to give Judge Barrett a fair hearing, and to vote based on her merits, not on her perceived politics or religious beliefs."
James Dobson, Founder and President of the Dr. James Dobson Family Institute
"We fully support the president's decision to submit conservative, constitutionalist nominees to the Senate before the election. That is part of the president's authority granted in the Constitution. The replacement of Justice Ruth Bader Ginsburg, by all accounts one of the most liberal justices in U.S. history, with an originalist conservative, will perhaps signal a return to sanity on the Supreme Court. "
Ed Vitagliano, Vice President of American Family Association
By NRB Staff
Published: September 28, 2020
Comments
You must be logged in to leave a reply.
Login »