2013 Special Service Awards
NRB Hall of Fame: John MacArthur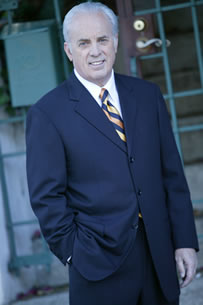 John MacArthur
John MacArthur founded the Grace to You media ministry in 1969 and has served as its President and featured teacher ever since. Today, Grace to You, the ministry's flagship radio program, airs more than 1,000 times each day in the English-speaking world and an additional 1,000 times per day in Spanish, reaching 23 countries from Europe to Latin America. Grace to You television reaches U.S. and international audiences.
MacArthur's commitment to Christ is also reflected in his other ministry endeavors. He has pastored Grace Community Church in Sun Valley, CA, for more than 40 years. In 1986, he founded The Master's Seminary and currently serves as the President of the seminary as well as The Master's College. Additionally, he has published more than 400 Christian books and study guides.
He and his wife, Patricia, have four children and 15 grandchildren.
 William Ward Ayer Award for Distinguished Service: Bill Skelton

Bill Skelton
For 20 years, Bill Skelton served as the President/CEO for Love Worth Finding, a Memphis, TN-based Christian broadcast ministry. Under Bill's leadership, the group expanded from airing on three TV and radio networks to about 14,000 international media outlets, including six satellite networks. Bill was a founding member of the Board of Directors for the NRB Network, and from 2008-2011, he served as NRB's Chairman of the Board. As Chairman, he initiated the 2010 "If My People" 40-day prayer initiative. Bill also served as the Chairman of Life Choices of Memphis.
Bill went to be with the Lord in February 2012. He is survived by his wife, Barbara, three children and five grandchildren.
 Billy Graham Award for Excellence in Christian Communications: K-LOVE & Air 1 Radio Networks

K-LOVE & Air 1 Radio Networks
K-LOVE & Air 1 radio networks create compelling media that inspires and encourages listeners to have meaningful relationships with Christ. With a weekly audience of more than 14 million, K-LOVE & Air 1 positively impact the spiritual lives of people nationwide, including those living in the metropolitan areas of New York, Los Angeles, Chicago, San Francisco and Houston.
Receiving more than 52,000 prayer requests every month, the networks' eight full-time pastors serve listeners' spiritual needs every day. Their websites, K-LOVE.com and Air1.com, some of the most trafficked sites in the country, provide the organization another means of serving people and furthering Christ's work.
Board of Directors Award: Mike Huckabee
Mike Huckabee
Governor Mike Huckabee, a former pastor and an outspoken supporter of Christian liberties, is host of the popular television talk show HUCKABEE on Fox News Channel as well as The Mike Huckabee Show and The Huckabee Report radio programs.
From 1993­-1996, Huckabee served as Lieutenant Governor of Arkansas, and from 1996-­2007, he served as Governor. In 2008, he pursued the Republican presidential nomination. His campaign helped bring forward issues important to conservative and religious voters, which he continues to actively promote from his broadcast platforms today.
Governor Huckabee is the author of nine books, the most recent being A Simple Government.
Governor Huckabee and his wife, Janet, have three grown children.

Milestone Award: Ambassador Advertising Agency

Ambassador Advertising Agency
Ambassador Advertising Agency was founded by Al Sanders, a longtime NRB Board Member, who launched the agency in 1959 while still an employee of Biola University, primarily to serve the radio program The Biola Hour.
A decade later, Sanders left Biola to become the host for the Radio Bible Class television production, Day of Discovery. The ensuing 15-year relationship led to his role as Executive Producer/Director of the telecast and agency representation for both television and radio outreaches of the ministry.
In 1977, Sanders was the facilitator in bringing Chuck Swindoll's teaching messages to radio audiences. A few years later, Sanders helped Dr. James Dobson and Focus on the Family begin a daily broadcast. Other broadcast endeavors Ambassador launched include FamilyLife Today and Renewing Your Mind.
Today, Ambassador's staff works with more than 20 media ministries and publishing organizations.

Milestone Award: Bott Radio Network

Bott Radio Network
Bott Radio Network started with one radio station in Kansas City in 1962, KCCV AM 1510 – "Kansas City's Christian Voice."
In 1975, BRN grew with the acquisition of a radio station in Oklahoma City. Stations serving Fort Wayne, IN; St. Louis, MO; Memphis, TN; and Fresno/Modesto, CA, followed.
Today, BRN serves Kansas City at AM 760, 92.3 FM, 88.9 FM, and 101.5 FM, the latter being added in December 2012. Nationwide, BRN has 91 stations reaching into 15 states with a combined coverage of more than 50 million people. BRN can also be heard nationwide on SkyAngel Channel 403, worldwide online at bottradionetwork.com and on mobile devices with free apps for iPhone, iPad and Android users. BRN also connects with listeners on Facebook, Twitter and other social media. 
Milestone Award: Evangelism Explosion International

Evangelism Explosion International
When Evangelism Explosion Founder Dr. D. James Kennedy hand-wrote the first EE Gospel presentation and had his secretary type it up 50 years ago, he gave printed copies to his wife and four other women with this simple instruction: learn it and be ready to go out the following week to train others to share the Gospel.  
Since then, millions have learned how to use the two diagnostic questions for which EE is famous to present the Gospel with clarity and compassion to friends, colleagues, family, and those they meet in "chance" encounters. Best of all, millions more have come to Christ through EE.  
In 2011 alone, EE trained 324,000 worldwide to share the Gospel. And, in the process, the organization reportedly saw more than 7.25 million people make a profession of faith. 

 
Milestone Award: First Baptist Church, Wichita Falls, TX
First Baptist Church, Wichita Falls, TX
First Baptist Church, Wichita Falls, TX, began broadcasting on radio in 1929. Beginning with a twice-monthly sharing of their services, the church never looked back.
During World War II, they aired on KWFT and reached Sheppard Field and the military community. In the 50s, The Family Altar, their morning program, reached homes. From the 40s until the 90s, their Sunday School program reached a general audience. Today, the program, now called The Word of Truth, has been in production for more than 25 years and is provided to shut-ins and those unable to attend a regular class.
In April 1958, then-pastor Dr. Jimmy Landes shared a message over the NBC television network. In June 1961, the church began weekly broadcasts over CBS Channel 6. The program currently airs on an NBC affiliate. FBC has also produced Christian talk and international programming.
Milestone Award: First Baptist Orlando

First Baptist Orlando
For the past five decades, the media ministry of First Baptist Orlando has worked to utilize electronic media to reach their community and beyond for Christ.
First Baptist Orlando has been broadcasting their services on the same station (WFTV) since April 1962. At first, they were broadcasting live as The First Hour. In 1992, the program moved to a magazine format and became Sunday First Edition.
Currently, the program is called Passionate Living with David Uth. The broadcasting team is predominantly volunteer-based and many of its volunteers have been giving their time for more than 10 years. For almost five years, First Baptist Orlando has also produced a 30-minute version of their program that airs on two other stations.
Milestone Award: Global Outreach Mission
Global Outreach Mission
Since 1943, Global Outreach Mission has been revealing Christ to the world. In more than 50 countries, they minister to spiritual and physical needs through church planting, medical care, training for pastors and Christian leaders, community development, education, orphanages, clean water projects and evangelistic radio.
Their radio programs reach around the globe. La Voix de l'Evangile (The Voice of the Gospel) reaches the French-speaking world, including Europe, North Africa and the Caribbean. La Voix de l'Evangile (The Voice of the Gospel) reaches across the Province of Quebec, Canada. AHOBAN reaches West Bengal, India, and Bangladesh. Canada's National Bible Hour, sponsored by Global Outreach Mission since 1990, reaches across Canada.
Milestone Award: KGLE-AM
KGLE-AM
KGLE-AM 590 in Glendive, MT, signed on the air in August 1962 and operated as a part of the Christian Enterprise Network until the fall of 1992. Because of the regional economic downturn at that time, the network could no longer afford to operate the station and decided to either sell KGLE to a local listener-group or allow it to "go dark" at the end of that October.
The determination of listeners to rescue their station was immediate. The corporation Friends of Christian Radio, Inc. (FCR) was organized. The organization assumed ownership of KGLE in February 1993. 
Since that time, the listener-supported station has maintained its Christ-centered focus, providing Christian music and teaching programs, along with news, weather and agricultural reports appropriate for their area listeners. KGLE began streaming its programming online in 2009.
Milestone Award: Northwestern Media
Northwestern Media
Northwestern Media is the media network owned by Northwestern College in St. Paul, MN.  The network began with the purchase of two stations (KTIS-AM and FM) in St. Paul in 1949, when the Rev. Billy Graham was President of Northwestern Schools.
Today, the network consists of 14 radio stations in seven Upper Midwest markets – eight air contemporary Christian music and six air Talk/Teaching programs. Programs include the top nationally syndicated programs, as well as four and a half hours of Northwestern-produced programs daily and five and a half hours of their own programs on the weekends. Northwestern stations minister to approximately 835,000 cume listeners each week. KTIS-FM, furthermore, consistently ranks in the Top 10 among 6+ cume stations in the Twin Cities.
The programming for all stations is streamed online.
Milestone Award: Open Doors
Open Doors
Open Doors was founded in 1955 by "Brother Andrew," the author of the autobiography God's Smuggler, which has sold over 10 million copies in 36 languages. That same year, Brother Andrew made his first missionary trip to Eastern Europe while smuggling Christian literature. He was first called "Brother" when he began delivering Bibles behind the Iron Curtain.
Today, Open Doors is an international Christian ministry that supports and strengthens persecuted Christians in more than 60 countries. The ministry's outreach includes Bible and Christian literature distribution, leadership training and assistance, Christian community development, and prayer and presence ministry.
In 2011, Open Doors delivered more than 3.1 million Bibles and other Christian materials to persecuted believers in 50 countries. Also in 2011, Open Doors served 172,137 people through community development projects and provided religious training to 263,542.
Milestone Award: Dr. Jose A. Reyes, Sr.
Dr. Jose A. Reyes, Sr.
For more than 55 years, Dr. Jose A. Reyes, Sr., has been a champion of the Gospel. His accomplishments include 50 years of service as a communications minister in Latin America, a successful writing/speaking career, the development of an international nonprofit, and the creation of a thriving Spanish-language broadcast ministry.
Compartiendo el Pan de Vida (Sharing the Bread of Life), Reyes' program, airs on more than 1,000 stations worldwide. It has been recognized for its content and technical quality excellence.
Dr. Reyes, a longtime NRB member, has served on the Board of Directors for more than 20 years and served on the Executive Committee for three years. He was also pivotal in creating the Hispanic National Religious Broadcasters Network and COICOM.
Dr. Reyes and his wife, Olfa, live in Florida.