NYC Tells Men It's OK to Go Into Women's Bathrooms in Citywide Ad Campaign

June 7, 2016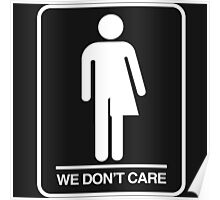 New York City Mayor Bill de Blasio has launched America's first government-sponsored citywide ad campaign that encourages residents who are men according to their birth sex to go into women's restrooms.

The ads, which read: "Use the restroom consistent with who you are. Look past pink and blue," are set to appear in subway cars, bus stops, and phone booths, among other places throughout the city.